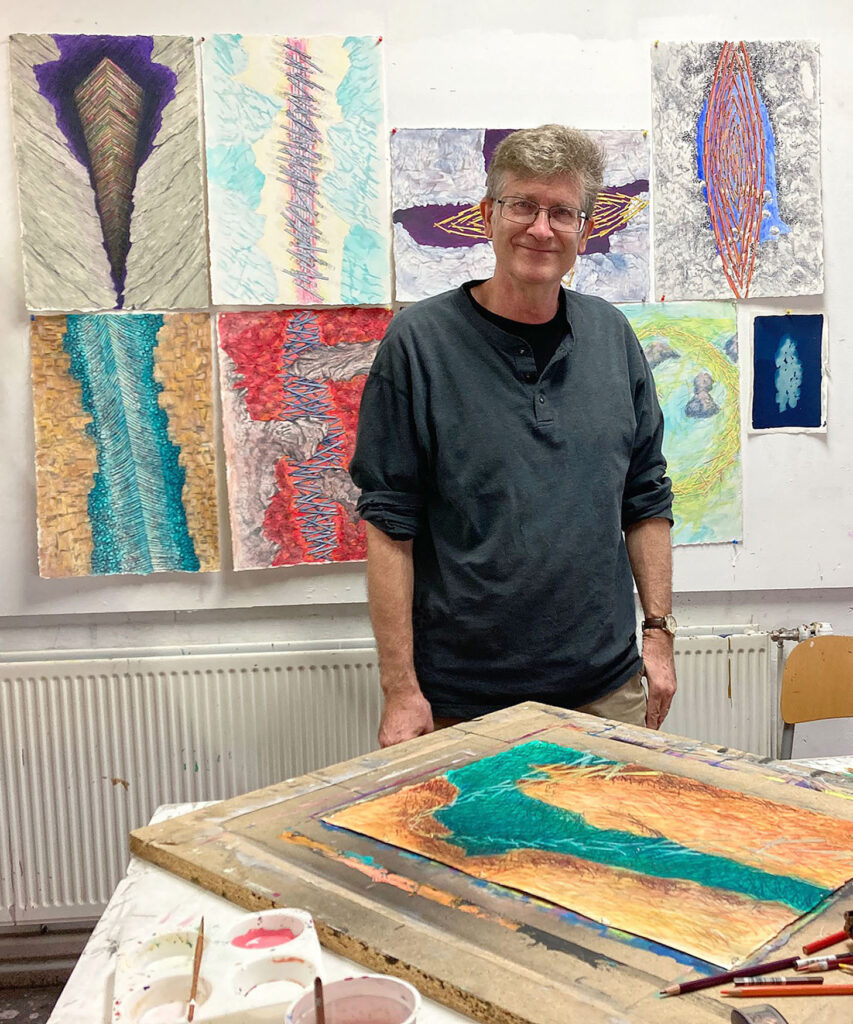 Christopher Nitsche is a multi-disciplinary artist living in Savannah, Georgia, USA. His art has focused on the subject of symbolic ship-related forms for many years. The art started while living in the mountains in Western New Mexico; kind of an odd locale, but this allowed him to explore the ship form as a metaphorical vehicle without literal associations to the sea, which continues to this day.
His work explores memory, passages, and transitional states – all through installations, sculptures and drawings involving aspects ship forms; some actual, some highly abstract. His inspirations hearken to vessels found in cultures throughout the world, including spiritual and ceremonial crafts.
His installations range from contemplations on actual experiences, to collective perceptions of memory and transition; some with configured interior spaces with enigmatic floating objects.
His sculptures are eclectic, depending on the media. The mixed media works incorporate toys and game parts reflecting expressions of irony, satire, and personal contexts. His approach in welded steel involves utilitarian objects and metal implements for their unique aesthetic significance and transformative properties. Recent works range from river-like movements to ship hull components.
His mixed-media drawings (graphite, color pencil, acrylic and ink stamping) inform and identify with installation concepts and sculpture making, along with metaphorical combinations of cultural and geologic sites. His art at the NES Residency focuses on the Icelandic landscape of lava formations with inclusions of ship hull and planking imagery.
Christopher Nitsche received his Bachelor of Fine Arts and Master of Arts degrees at Northern Illinois University and his Master of Fine Arts degree at the University of New Mexico. His career includes over 70 solo and group exhibitions throughout America. He is the recipient of fellowships for artistic merit and numerous honorariums, academic grants, and stipends for professional development. He has taught at several institutions including Keene State College, Arapahoe Community College, and the University of Colorado at Denver. He is currently Professor of Foundation Studies at the Savannah College of Art and Design.
You can find out more about Christopher and his work on these platforms
New website under construction www.christophernitsche.com
Current website of older work: www.chrisnitsche.com
www.instagram.com/nitsche_chris/