Darija is a Bosnian-born, Canada-based, internationally recognized artist whose work is
predominantly conceptual, whether it is a performance, ready-made, sculpture, textual
work, minimalist painting, assemblage, or a large-scale installation. The common
denominator of her artistic practice is her honest confrontation with the issues that
trigger her attention and exposing that confrontation to the audience.
As she experienced being a refugee in the '90s, then being an immigrant two decades
later, her art is questioning issues of identity, equality, social conflict, and freedom of
expression.
When it comes to making art she often uses satire which she considers inevitable,
maybe even remedial.
She earned her BFA from the Faculty of Fine Arts, at the University of Belgrade.
She has exhibited extensively at various group and solo exhibitions including
participation at XV Festival KROKODIL – Spaces of Freedom (2023), exhibitions "Milky
Way", curated by Sanja Kojić Mladenov, Museum of Contemporary Art of Vojvodina
(2022), "Human Capital", curated by Tak Pam, Contemporary Calgary (2022) and
Confederation Centre of the Arts, Charlottetown (2023); "Northeast Southwest", curated
by Irfan Hošić, Kunsthaus Dresden (2022); solo exhibition "I Like When You Feel
Uncomfortable", curated by Branislav Dimitrijević, NGVU, Belgrade (2022), etc.
http://radakovic.darija.ca/
@art.dictator.and.kurator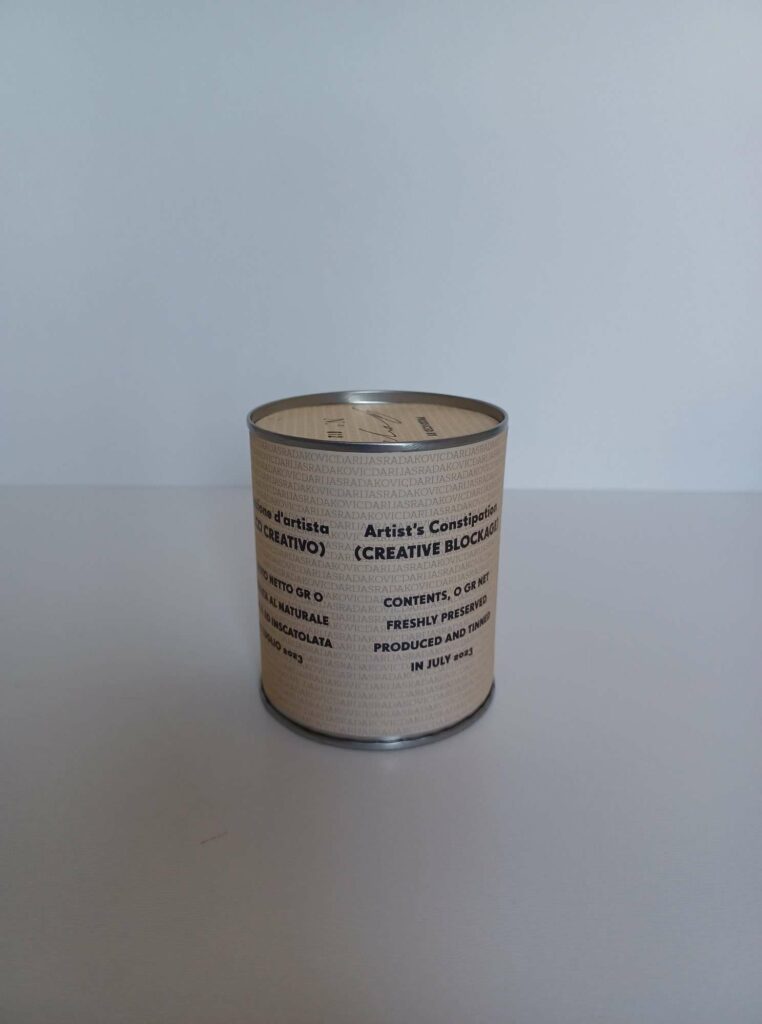 Artist's Constipation (Creative Blockage)
It is tough to produce a shit on an empty stomach. The chances are net zero.
This piece consists of a dozen cans filled with artist's constipation, creative blockage,
unproductivity, lack of substance, nonexistence, emptiness, vacuum, nullity, blankness,
voidness, nothingness, discontentedness, etc.
Artist's Constipation is a series of 12 tins, numbered and signed, each containing 0
grams of artistic content.
Since this piece is inspired, and in some way is the continuation of Piero Manzoni's
piece Artist's Shit, in which each can is labeled as containing 30 grams of artist's
excrement priced its net weight worth in gold at the time, therefore following the same
logic, Artist's Constipation is priceless.
The text on the labels is printed in French, German, Italian and English.
DISCLAIMER: This work was not supported by any institutional power structure that
claims to support artists in their growth and production of shit.