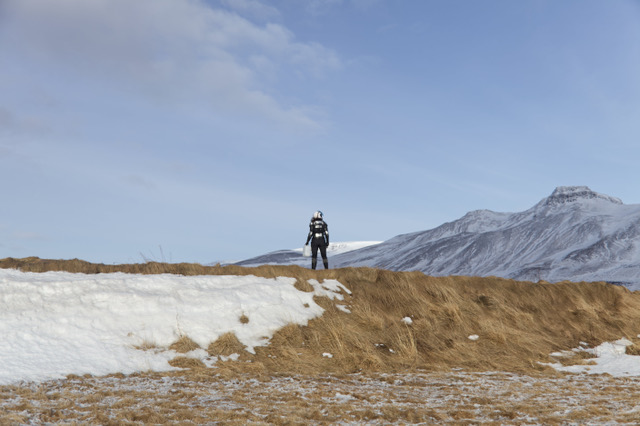 Sandra Setzkorn is based in Berlin (Germany), multi-disciplinary artist, focus on music, photography, video, coming from painting, studied at Goldsmiths College, London (UK). 
Her work is evolving around the subject of identity, gender, body, expanding it to an exchange in-between space, landscape, surroundings. 

"For my work, I currently draw from landscape experiences that I link to emotional, human phenomena. Both in my music and in my art, one's own experience on the inside is linked to the environment on the outside." Her project for 2022 is to work on the concept, script and realization of a Sci-Fi shortfilm "Foreign Moon". First storyboard takes have been made in Skagaströnd with the help of artist Laura Prochilo
Foreign Moon 
Inbound Earth Atmosphere. Is this the Earth – where Sam and C.A.T. have arrived after years of space travel? When they discover an unknown species, the situation seems to take a dubious turn. The space commandant  Sam and her co-commander C.A.T remain on the unknown planet, the two recruits' bodies and minds seem to be miraculously absorbed. 
In 2022, an experimental film titled "Foreign Moon", conceived on the locations  Iceland is being made with a small team composed mainly of Berlin-based artists.
In the science fiction film "Foreign Moon" two protagonists land in an unidentifiable landscape. Ambiguity, unease, and an ambivalent atmosphere are conveyed in the film, created not least by props and the dystopian landscapes.
The young space commander Sam enters an earth-like atmosphere – with her co-commander C.A.T, who is severely wounded after landing, due to a crash of the capsule, and apparently dies. Irritated, disoriented, and slightly wounded, Sam sets out to discover the planet "Earth", which she thinks she recognizes from books and studies. Relying on the coordinates from her spaceship, she has crash-landed on Earth.
You can see more of Sandra's work on her website.